Professor Ken Smith: Why public services must improve Indigenous representation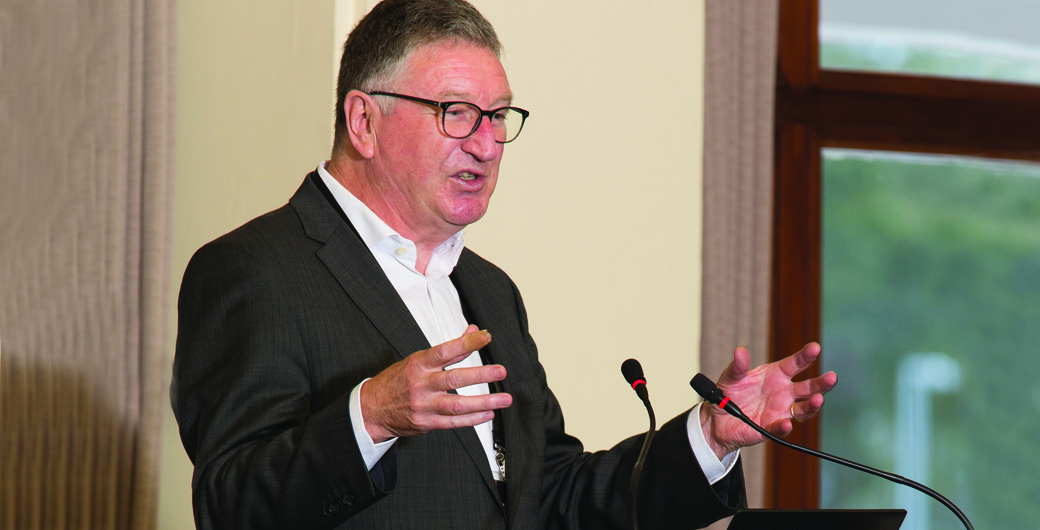 ANZSOG held its second Indigenous Public Servant Forum in Canberra on December 9-11. The forum, held with the support of the Australian Department of the Prime Minister and Cabinet (PM&C) brought together more than 80 Aboriginal, Torres Strait Islander and Māori public servants from 10 jurisdictions to develop an outcomes-focused approach to improving representation of Indigenous peoples, culture and knowledge in the public sectors of Australia and New Zealand.  ANZSOG Dean and CEO Ken Smith spoke to delegates on the opening night of the forum. See below for an edited transcript.
Professor Ken Smith with Forum facilitators Professor Kerry Arabena and Craig Ritchie  
I would like to begin by acknowledging the Traditional Owners of the land on which we meet, the Ngunnawal people, and pay my respects to their elders past and present. I extend that respect to all Aboriginal and Torres Strait Islander people in the room. I would like to especially thank Aunty Tina Brown who provided such a warm welcome tonight. 
And this warm welcome is extended to all our NZ Maori colleagues – Nau mai Haere mai. 
Since 2017, ANZSOG has been on a journey to improve the representation of First Peoples' knowledge, wisdom and experiences in our teaching, learning and research.
As an organisation created and owned by the governments of Australia and Aotearoa/New Zealand, I see this journey as a central pillar of ANZSOG's mission to educate and connect public sector leaders, enrich the work of the public sector through our research and inspire public servants to make a positive difference in the lives of the communities we serve. 
Improving the lives of Indigenous people must be a key priority for all governments in Australia and New Zealand, and for all public services. We need to ensure that every Indigenous person and community has access to the things many of us take for granted – decent, affordable housing, health services, employment and upskilling opportunities, and that we empower Indigenous peoples to achieve success on their own terms.
These issues cannot be ignored by our public services or relegated to second-order business. They need to be part of the activities of every agency, and they must involve public services changing the ways they operate to become more responsive to the needs of Indigenous people.
There will always be tensions in using the structures of colonisation to amend and redress the damage that it has done to Indigenous communities.
However, I believe that public services can be at the forefront of positive change in Australia and New Zealand. A view that I assume you share based on your presence here at the Forum.
Part of this must be employing Indigenous people at all levels of the public service and the embedding of Indigenous ways of knowing and doing in public practice. It is critical that we have Indigenous voices front and centre, and that the public service listen, learn and build relationships in the way Indigenous people want. 
Indigenous public servants face unique challenges in operating in western institutions while maintaining their commitment to culture and communities. 
Many public sector agencies struggle to recognise and accommodate this, and have been unable to design, develop and implement sustainable recruitment, retention and professional development strategies for Indigenous employees, so they can assist the Government to deliver improved outcomes for their communities.
We are all losers from this failure. 
Debates about recognition and self-determination are clearly important and each of us has a role to play in providing frank and fearless advice to our political leaders.
Employing Indigenous people and engaging Indigenous communities in policy formation and service delivery are practical ways to recognise Indigenous communities, just as improving outcomes gives concrete expression to concepts of equity and justice.
Professor Ken Smith with Hon Dame Annette King, New Zealand High Commissioner, and Peter Woolcott AO, Australian Public Service Commissioner 
 I want ANZSOG to be a part of that positive change and our partnership with Doctors Martin Parkinson and Ian Anderson of PM&C, and in fact each jurisdiction across Australia and New Zealand is a central part of the journey. 
As part of this journey we have created three Indigenous specific positions at ANZSOG and are incorporating Indigenous perspectives and content across our programs, research and our teaching and learning strategy. We are only just taking early steps to make ANZSOG an organisation that can support and represent the interests of Indigenous public servants and communities, but we are excited about what the future holds. I would especially like to thank relatively new recruits, Sharon Nelson-Kelly and Aurora Milroy for their invaluable help on this journey.
My hope is both that ANZSOG's teaching and research becomes more relevant to Indigenous public servants and communities, and that all public sector leaders understand the value and potential of full and substantive representation of Indigenous knowledges and peoples across government. 
Again, this is not simply to improve the way the public services work with Indigenous peoples but to ensure that Indigenous knowledge and culture are used to benefit all Australians and New Zealanders.
This Forum is an opportunity to strengthen the network of senior Indigenous public servants across jurisdictions. This network can support Indigenous public sector leadership and build on the work already in place in Indigenous public sector employment, government-community relations and representation of First Peoples' wisdom in the public sector.
Last year ANZSOG received clear feedback that in 2018, the Forum should focus on tackling the real and pressing challenges faced by the public sector, including the four recommendations from the 2017 report. 
These recommendations included: creating career pathways for Indigenous public servants and the development of Indigenous leaders; recognising Indigenous knowledge in the public sector; moving from narratives of deficit to success; and achieving a balance between 'ignoring the Indigeneity of First People' and expecting Indigenous public servants to be the 'sole representatives of a pan-Indigenous culture'.
In line with this feedback, we hope you've come prepared to drive the agenda, share your insights, and work actively towards the identification of enablers to empower you collectively into make positive change.
However, I understand that you, as Indigenous leaders in the public sector, cannot affect the necessary change alone. Public sectors across all jurisdictions need to meet the expectations of Indigenous communities and respond to the wisdom of this network. 
I see ANZSOG's role as facilitating and enabling the interaction between this network and your jurisdictions. In helping to bring this Forum together and working with you on the identification of outcomes and a post Forum report, we can make ambitious and impactful recommendations to each of our governments. 
From your position inside the public sector, yours are important voices which speak to the inherent importance and value of government and the importance of Aboriginal, Torres Strait Islander and Māori culture, values and perspectives are represented across all levels of government. 
The meeting of this cross-jurisdictional network is a unique opportunity to turn the collective wisdom of Indigenous public sector leadership into action. 
This year we have representation from all 10 jurisdictions. It is an exciting opportunity for Aboriginal, Torres Strait Islander and Māori delegates to share knowledge, achievements, challenges and innovations from their jurisdictions, in order to maximise the value of the network. 
On behalf of ANZSOG and with thanks again to PM&C, welcome to the 2018 Forum. We look forward to supporting the Forum in 2018 as conveners and facilitators of this important network. 
No reira Tena koutou, tena koutou, tena koutou katoa.
Greetings, Greetings, greetings to you all.