2018 Paterson Oration: Peter Hughes asks how we nurture the public sector's 'spirit of service'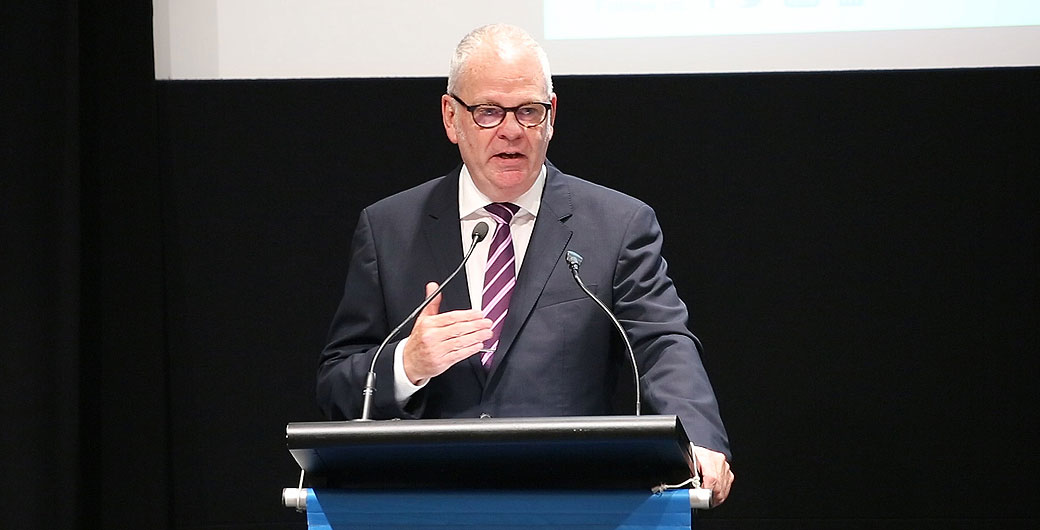 How do we foster and encourage the 'spirit of service', which unites public servants, and strengthens the role of an independent public service that underpins the democracies of Australia and New Zealand?
New Zealand State Services Commissioner and Head of State Services Peter Hughes explored these issues in the 2018 ANZSOG Paterson Oration at the State Library of New South Wales on 7 March.
Mr Hughes, who is also the ANZSOG Board Chair, spoke about his experiences in the public sector and the spirit of service, which united people who chose to work in the public sector as a way of serving their community.
He said that the three key components of the spirit of service were:
opening our hearts and minds to the needs of others
an attitude of humility
being motivated by something bigger than ourselves.
"I believe that public service is something we should acknowledge, celebrate and reward," Mr Hughes said.
"In 35 years of public service I've felt a lot of things – frustrated, disappointed, disillusioned even – but never once have I felt that it wasn't worthwhile.
"Since I've been in this job I start every speech by talking about public service and the spirit of service. It gets a hugely positive response as if I am articulating something that everyone believes in, but no one talks about anymore."
Mr Hughes' career in public service began more than 35 years ago as a clerk with the then New Zealand Department of Social Welfare.
He realised the importance of supporting single parents and the unemployed, and the huge difference public servants could make to their lives, and decided to give up his plan to become a lawyer.
Since then he has been in a variety of roles across the New Zealand Public Service, ranging from field worker to the top tier of executive management, and has received numerous accolades for his work.
Before taking on his current role, he led a number of New Zealand's Public Service organisations as chief executive, and was Professor of Public Management and Head of the School of Government at Victoria University of Wellington
Mr Hughes said that an independent public service was part of the constitutional architecture that guaranteed the legitimacy of democratic government in Australia and New Zealand.
He said that the constitutional role of the public service was underpinned by four pillars, which supported everything the public sector did, and which each generation of public servants had a responsibility to nurture and protect:
political neutrality,
free, frank, fearless advice,
merit appointments,
open Government.
"Political neutrality is the absolute bottom line to assuring an enduring career in public service in the Westminster tradition, but it is in under pressure in various ways in most jurisdictions," he said.
"The public service must be able to garner trust, confidence, and ultimately the respect of successive administrations if it is to do its job. The key is to engage actively with the political context without becoming part of it."
He said the role of political staffers working for ministers had grown in recent decades in Australia and New Zealand and that there was debate around the best way to integrate them into the political system.
"Some commentators say that this role should not exist or be curtailed in some way. With respect, I disagree. That is to ignore the reality of modern politics. Well-functioning political advisers are a guarantee of political neutrality more than a threat to it."
He said that in New Zealand political advisers were treated as public servants and covered by a code of conduct, that could be enforced.
"The Code of Conduct for Ministerial Staff requires them to 'respect the duty of our independent State services to provide free and frank advice and undertake their responsibilities free from inappropriate influence'.
"In the New Zealand system this has the force of law through the employment relationship and ultimately I can order a public inquiry using my powers under the State Sector Act if necessary".
He said that the intended outcome of providing 'free and frank' advice was better results and services – not officials advancing their own agenda, or demonstrating fearless independence for its own sake.
"The convention of giving free and frank advice is designed to support Ministers to achieve their objectives," he said.
He said that the public was sick of "ducking, diving, spinning and running for cover" and just wanted public servants to have some accountability for mistakes.
"I say when a mistake is made: "own it, fix it, learn from it".  And do that publicly if necessary.
"What I have learned in this job is politicians and others don't always agree with you in the heat of the moment but if you do the right thing they will respect you for doing that.  Not in the moment, in the round".
Mr Hughes spoke about how New Zealand is using advances in digital and data technology to join up services for citizens, but this needed to be followed by physically joining up services.
Mr Hughes said there needed to be a debate about privacy and an understanding that the old paradigms were now outmoded and that data-sharing and data pooling had huge potential to help individuals.
He said that public servants needed to be continually thinking about how they improved service delivery for customers and citizens and adapted basic principles to modern conditions.
"In an era characterised by disengagement from government how do we build trust and confidence in our public institutions and their important role?  How do we ensure that they are fit for purpose in the 21st century?  How do we meet the ever-increasing expectations of citizens?" he said.
"Underpinning everything and propelling it forward is the spirit of service. Our first and last responsibility as public service leaders is to support, protect and nurture that spirit in the people who give expression to it every day, every week.
"They deserve that from us, and they also deserve a public service system that enables that spirit to be translated into the better services and outcomes that they are so very motivated to deliver."
The Paterson Oration is an ANZSOG initiative, which recognises and commemorates the distinctive contribution of Dr John Paterson AO to public administration and public sector reform in Australia.
Dr Paterson was one of Australia's most esteemed public servants, providing governments at state and national levels with practical solutions to long-standing problems and applying management expertise to improve the delivery of public services.
The event also featured a celebration of ANZSOG's 2015 and 2016 Executive Master of Public Administration award winners – the cream of the crop of Australia and New Zealand's Public Service.
Watch Peter Hughes' speech at the 2018 Paterson Oration: