EMPA gives Leonique Swart broader skills and understanding of leadership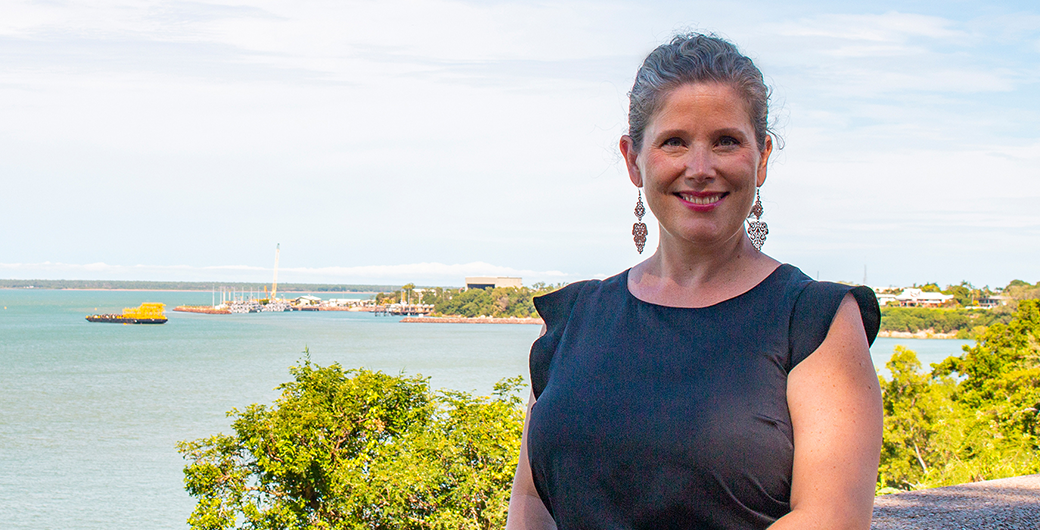 When a friend told Leonique Swart that she'd love the lifestyle in the Northern Territory, she decided to explore her options. At the time she was living in Adelaide and working as a prosecutor for the Director of Public Prosecutions but when a lecturing position arose at Charles Darwin University, Leonique moved north.
"A friend said I'd love the Northern Territory because it was a young and vibrant community. So, I moved to Darwin and taught law for two years. Then a position came up with the Department of Justice in the policy area and I've never left," says Leonique.
"What I do is a nice mix between being a practising lawyer and being involved in the creative research side of things. It's a good fit for me and the work is diverse. We are dealing with real life and important problems – interesting, complicated problem-solving on a daily basis – and so my role has a sense of higher purpose."
Leonique was Principal Policy Lawyer in the Legal Policy Unit at the Department of the Attorney-General and Justice in the Northern Territory. She is now Acting Deputy CEO of the Department. Much of her work relates to criminal justice issues, developing policy responses to those issues and legislation. The Criminal Code, consumer protection and anti-discrimination issues all come under the remit of the Unit.
"We are lawyers for the Government and provide legal advice, but our focus is more on justice policy. We also provide legal policy advice to other agencies if they have a regulatory problem or need advice about legislation," says Leonique.
Since she joined the Department in 2009, Leonique has been part of a series of valuable initiatives, such as being involved in an inter-jurisdictional committee that designed the policy and legislation for the National Redress Scheme for Institutional Responses to Child Sexual Abuse. More recently Leonique and her colleagues made legislative amendments to permit victims of sexual assault to consent to publication of their identity.
"I work with complicated social and legal policy issues that involve police, corrections, other agencies and stakeholders outside government. To work across a diverse range of interests is a challenge and sometimes matters are quite emotive but it is very rewarding," says Leonique.
After leaving high school, Leonique started an Arts degree and gravitated towards Law.
"But I had no conscious thought about a vocation. I didn't think I'd end up in the role I have today," she says.
After working for legal firms, she took on a casual teaching role before joining the DPP and then arriving and settling in Darwin. As she has become more senior within the public service, she has been keen to broaden her knowledge and skills and in 2018 she enrolled in the Executive Masters of Public Administration (EMPA) with ANZSOG.
"I was looking more for a degree in the business of government. Law teaches you about law, but it doesn't necessarily give you broader skills, like business skills. If I was going to move into more senior roles, I knew I needed broader skills and I thought the EMPA was a good fit for the gaps in my skills and knowledge base. For example, I had no idea about public finance or the impact of economics on government decision making. I'd reached a point where I wanted to diversify – I didn't want to be just a lawyer," says Leonique
The EMPA has given Leonique valuable information about many areas including public finance, economics and designing public policies and programs with an investment lens.
"The leadership component was useful in thinking about my own leadership style. I understand more that leadership is not just about power but investing in other people, creating relationships and creating trust to get the best out of people and to get the best solutions to problems," says Leonique.
"When you are collaborating across sectors and dealing with different people and complicated problems with different points of view, there is no right or wrong answer. So, you need to have some challenging conversations sometimes, and now I feel more confident about having those conversations."
The cohort completing the program with Leonique came from various government departments – from health and veterans affairs to education and Premier and Cabinet. Working with them to look at best practice capability frameworks in the Australian public service was a valuable exercise.
"The EMPA changed me as a person and public servant because I've got much broader understanding of how government works and its decision making. I had an idea before and I had some of the skills, but it's given me greater understanding of a complex environment," says Leonique.
"I don't think I'd go back into private practice – government work is more satisfying for me," she says.
"Our measure of success is different to the private sector. Here it's not about making money, but something a bit deeper."
Find out more about ANZSOG's Foundation Programs
Executive Master of Public Administration (EMPA)
A part-time postgraduate qualification developed and delivered by ANZSOG exclusively for high-performing public sector managers.
Executive Fellows Program (EFP)
A program that challenges senior public service executives working in the public domain to develop new leadership perspectives in a contemporary and highly interactive setting. 
Towards Strategic Leadership (TSL)
A unique program that helps public service leaders develop the qualities needed to thrive in a senior executive role: a strategic outlook, political astuteness, personal resilience and the ability to reflect and learn continuously.