Indigenous public servants need better career pathways: ANZSOG report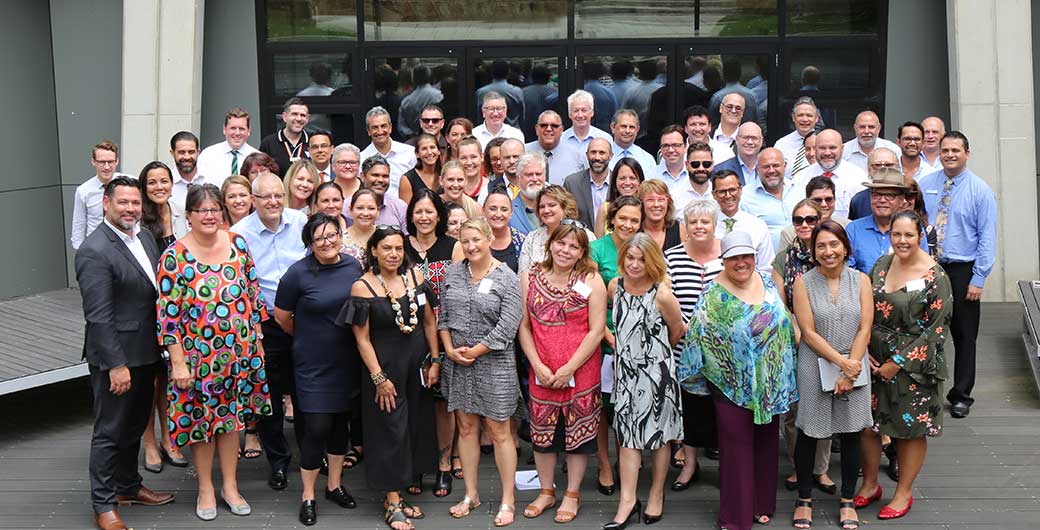 Governments will only be able to deliver better outcomes for Indigenous people in Australia and New Zealand if they embrace Indigenous knowledge and culture, collaborate better with communities and ensure that Indigenous people are appropriately represented at all levels of the public service.
ANZSOG has spent the last year working to initiate dialogue with First Peoples and our member governments regarding the changes needed within public services, as well as embarking on our own journey to better recognise Indigenous people and culture in our practices and curriculum. This has involved forums where Indigenous public servants and leaders can air their views on what needs to be done. We have also undertaken a Listening Tour focusing on our alumni and other stakeholders across Australia and New Zealand.
ANZSOG has today published a report outlining the findings of a forum of senior Indigenous public servants from Australia and New Zealand held in mid-December last year, supported by Australian and New Zealand governments and funded by the Australian Department of the Prime Minister and Cabinet.
ANZSOG Dean and CEO Ken Smith, who was an observer of the forum, said he hoped it would be the first step in creating an active network of senior Aboriginal, Torres Strait Islander and Maori public servants to share knowledge and experience, and support Indigenous leadership across all areas of  the public sector.
"We can't talk about improving the public administration of Indigenous affairs without thinking about Indigenous leadership in the public sector," he said.
The forum was attended by more than 60 Indigenous public servants from Australia and New Zealand, and allowed participants to discuss frankly the challenges of being a minority within the public service and the benefits that could be delivered by employing more First Peoples.
Over the course of the day, delegates identified four key issues for improving the position of Indigenous people in public services:
Creating career pathways, improving retention of Indigenous public servants and development of Indigenous leaders
Recognising Indigenous knowledge in the public sector
Moving from narratives of deficit to success
Achieving a balance between "ignoring the Indigeneity of First People and expecting Indigenous people to be 'the sole representatives of a pan-Indigenous culture'".
Improving communication vital
Many delegates spoke of their experience as senior Indigenous public servants requiring them to 'walk in both worlds'. As a part of a set of institutions that are at their foundation Western, Indigenous public servants are required to understand how to operate in this space while maintaining their commitment to community and culture.
Indigenous public servants face persistent obstacles to exercising leadership. However, many of the delegates to the Forum emphasised this ability to 'walk in both worlds' as a potential source of strength, where they can bring different perspectives and a unique connection to community to improve the work of the public sector.
Delegates discussed the necessity for Indigenous public servants – particularly at the leadership level of the SES – to learn how to communicate their expert, first-hand knowledge of Indigenous affairs to non-Indigenous public servants, particularly in mainstream agencies. Dealing with non-Indigenous public servants who may have  little understanding or empathy for Indigenous policy and service delivery issues – and no lived experience with Indigenous people and communities – can be a major feature and challenge for Indigenous leaders.
Creating career pathways for Indigenous public servants
Delegates from all jurisdictions represented also discussed the need for the public sector to be more proactive in creating career pathways and retention for public servants – and breaking out of the pattern of 'like-by-like' recruitment and appointment.
Craig Ritchie, CEO of the Australian Institute of Aboriginal and Torres Strait Islander Studies, said: "We do not just need to render our system attractive to people, that's a really passive thing to do, we need to do what the private sector does every day: identify talent, go after talent, and actively recruit bright young Indigenous people."
One recurring theme was the need to move away from a 'deficit model' to one which recognised the strengths and successes of Indigenous communities, rather than one where they are viewed through a prism of deficit when they connect with government though service delivery including health, criminal justice and education.
Te Puni Kokiri Māori leader, Tui Marsh, framed the need to shift away from this deficit approach saying: "Hopefully we can get to a position where Indigenous people don't want anything from us except good laws, fixing bad laws and generating resources for the community".
Professor Smith said that public services needed to develop a deeper understanding of Indigenous leadership, so that First Peoples in the public sector could perform their roles as Indigenous leaders and members of the public sector without experiencing a sense of isolation.
"We need public services that empower Indigenous people to 'walk in both worlds'. This will deliver long-term benefits but will require a great deal of engagement and learning, and a substantial cultural shift in the mainstream public service."
ANZSOG's Listening Tour
ANZSOG is committed to an inclusive approach to its practices and curriculum. Going into the future, this includes prioritising the value and unique contributions of Māori, and Australian Aboriginal and Torres Strait Islander peoples.
Part of this process was the ANZSOG Listening Tour 2017, where ANZSOG staff, including Professor Ken Smith and Associate Dean (Academic) Professor Catherine Althaus, visited member jurisdictions in Australia and New Zealand to discuss ANZSOG's role and capacity in this space with its stakeholders, primarily alumni and current students.
"Input from our alumni will be important for us, in determining how we make good on our commitment to better involve Indigenous people in our work. What we heard in the listening tour will become part of ANZSOG's own plans for organisational change," Professor Smith said.
"In every jurisdiction, the issues of cultural competency, safety and awareness of Indigenous identities, practices and issues were raised."
Participants accepted that the public sector, more often than not, struggles to understand how it can work with Indigenous people and communities, but said that learning to do so would be enormously beneficial, and that ANZSOG was in a unique position to lift standards of cultural competency across the public services in both nations.
On this issue, Australians noted their interest in bi-cultural reforms in New Zealand. Australian alumni have commented that some of their best learnings in Indigenous affairs policy have come from conversation with their New Zealand peers. However, several of the participants in Wellington and Auckland recognised the need for ongoing improvement in cultural competency in the New Zealand public sector.
Participants suggested research areas for ANZSOG to conduct, particularly in relation to our Case Library and to the Work Based Projects, which are a key part of our EMPA program. More practically, participants offered ideas on how research and teaching could be conducted to consider key Māori, Australian Aboriginal and Torres Strait Islander interests.
Professor Smith said that ANZSOG was working on ways to better incorporate Indigenous issues into its work, and is planning to hold another Indigenous public servant forum in early 2018 with the support of DPMC and other member governments. ANZSOG is also working on a second conference, again with the financial support of DPMC and the involvement of all member governments, later this year in Melbourne which likely to bring together 350 leaders from Australia and New Zealand, to build on the 250 which attended the 'Indigenous Affairs and Public Administration: Can't we do better?' conference in Sydney last October.