First Peoples to All Peoples Conference highlights the voices of First Nations women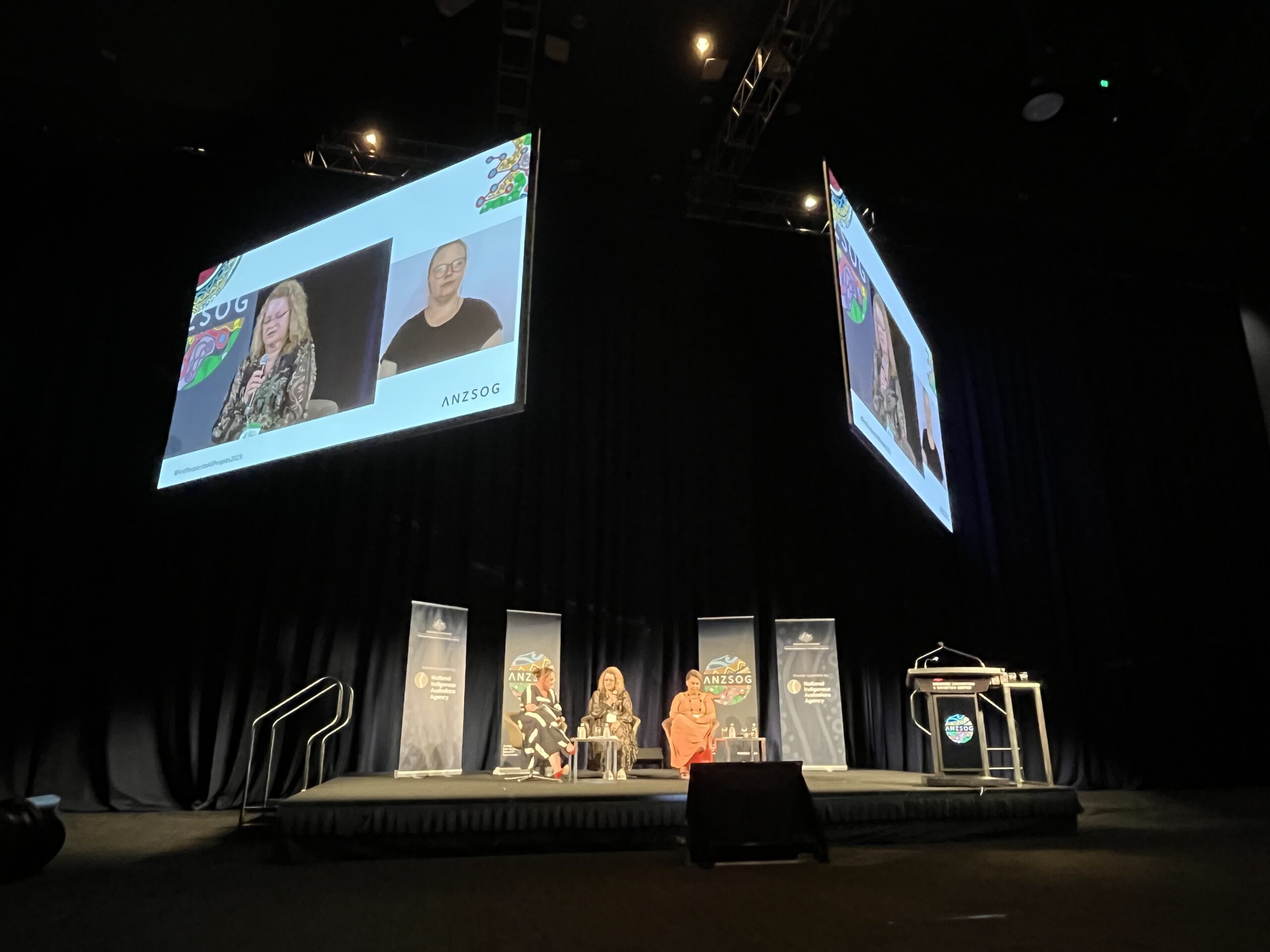 First Peoples to All Peoples Conference highlights the voices of First Nations women
ANZSOG's First Peoples to All Peoples conference was a chance for public servants, academics and NGOs to listen to First Nations voices from Australia and Aotearoa New Zealand. The line up included a range of prominent First Nations women, and to celebrate International Women's Day we look at three of the female presenters at the conference, and the messages that they shared with an audience of public servants, academics and First Nations community representatives from Australia and Aotearoa New Zealand. 
Dr Janine Mohamed – CEO Lowitja Institute

Dr Janine Mohamed is a proud Narrunga Kaurna woman from South Australia. Over two decades, she has worked in nursing, management, project management, research, workforce and health policy in the Aboriginal and Torres Strait Islander health sector, including as CEO at the Congress of Aboriginal and Torres Strait Islander Nurses and Midwives (CATSINaM). 

She is currently the CEO of the Lowitja Institute – Australia's National Institute for Aboriginal and Torres Strait Islander Health Research – and was part of the session that focused on Transforming Government Organisations. 
She said that systemic transformation was needed because policies were having the same outcomes, and that the trust that was needed could not happen in racist systems. 
"We need to have hard conversations, because the magic happens in the hard discussions. But they can't be just conversations we need to see action," she said 
"We will only ever travel at the speed of trust. We need Aboriginal and Torres Strait Islander people setting the agenda from the very start, but it doesn't stop there we need to be the implementers of whatever is decided and to be part of the evaluation." 
"I would have to ask myself: does the system understand what racism is? When we tell the system it is racist does it understand? We don't even measure it at the moment because it is a colonial apparatus which has never had to measure racism." 
She said that another reflection of racism was the lack of Aboriginal and Torres Strait Islander people in senior SES positions. 
"I can tell you what a system looks like that is culturally safe – it is a system that is full of people of colour," she said. 
She said that polices needed to have First Nations culture at their heart and avoid the deficit discourse that blamed First Nations for problems, while recognising the diversity of communities 
"We are diverse and co-design needs to be place-based because there is no ticklist on how to work with us, and there is no one solution." 
She cited the Aboriginal and Torres Strait Islander Health Plan, which is designed to guide policies for the next ten years and is aligned with the National Partnership, as a successful initiative because it named racism, and recognised the strengths of culture and importance of co-design. 
She said people who wanted to make a difference needed to get involved in discussions and not be bystanders. 
"My life's work has been about cultural safety and I encourage my allies to take that journey in transforming the system and their own minds, it's a lifelong journey there is no destination." 
She concluded by advising attendees to: "let your noes be noes – so you can say yes".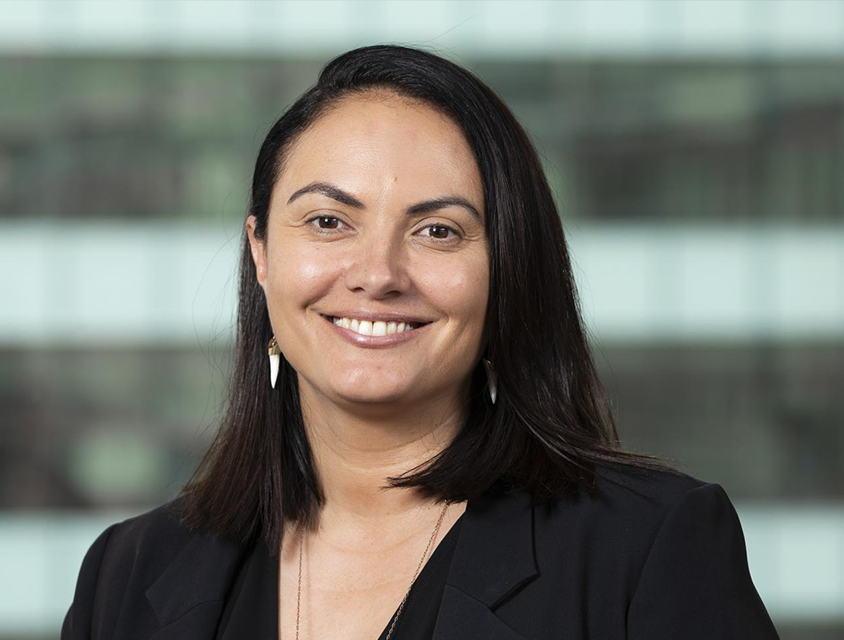 Kirikowhai Mikaere (Te Arawa – Tūhourangi, Ngāti Whakaue)– lead technical advisor to the National Iwi (Tribal) Chairs Forum – Data Leadership Group 
Ms Mikaere is a leading Māori data and information specialist focused on harnessing information to empower indigenous community development. She is a consultant with over 20 years' experience advising Ministers, government agencies, tribal, community and private sector organisations with practical statistical analysis and innovative place-based data solutions. 
Ms Mikaere is currently the lead technical advisor to the National Iwi (Tribal) Chairs Forum – Data Leadership Group, leads the independent trust Te Kāhui Raraunga and holds governance positions across the private sector and government. 
She was part of the Shared Access to Data and Information session and told the audience that in Aotearoa New Zealand data was being collected by a system that 'ails, jails and fails us' and was contributing to that failure. 
"I think we are all aware that 'what you measure you manage'. A lot of the data that is taken from us in Aotearoa by government shows states of deprivation and desperation so we have a lot of focus on managing those states. It really provides a misunderstanding of who we are and the contribution we make to our nation, for example it doesn't show the role of iwi as job creators." 
"The lens that writes those questions – that collects, analyses and disseminates – has a bias. Your values create the lens that you see the world through and Māori have a particular value set so we deserve to have our lens put on that data," she said. 
"We need to move away from the idea that we are data providers, and the best we can aspire to is be data consumers. We can be data designers, and we need to redesign a system that lets us measure our aspirations and our contributions, so that is what we look to manage." 
"There is a real power in using data the way we want to use it." 
She said that the Crown in Aotearoa New Zealand had various different ways of defining the Māori population (ranging from estimated of 15-20% of the Aotearoa population) and Māori needed to raise awareness that this state-determined identity was different to self-determined identity. 
While iwi had their own databases, and elders checked genealogy, there were many Māori who were not registered which limited their engagement with society, and that iwi were working to get access to that information. 
She said that during COVID-19 barriers that had been stopping iwi accessing data from governments melted away. 
"During the pandemic those issues didn't seem to exist and we got access to data immediately, because we had to respond to our communities because governments couldn't respond to our communities as fast as we could. There seems to be another 'travelator' for data sharing that exists in a crisis. Yes, the pandemic is a crisis, the cyclone is a crisis, but actually the state of our people as we are is also a crisis, so how do we get on that travelator?" 
Letitia Hope – former Deputy Chief Executive Officer for Policy and Programs at the National Indigenous Australians Agency (NIAA). 
Letitia Hope is a proud Bundjalung (Northern Rivers NSW), Torres Strait Islander and South Pacific Islander woman. 
Over the past 30 years, she has had a varied and wide career working across Commonwealth and State governments in both mainstream and specialised social policy development, program management and service delivery across human services, housing, health and community services, Veterans Affairs and Indigenous Affairs. The conference was her last engagement in her role at the National Indigenous Australians Agency, and she was able to share her frank insights from her time in the role. 
She is also one of the inaugural members of the Australian Public Service (APS) Academy faculty and is a Council Member of the Institute of Public Administration Australia (IPAA ACT) 2021-2023. 
Ms Hope was also part of the Transforming Government Organisations session, and said that systems in the Australian Commonwealth Government acknowledged that there needed to be change, but did not know how to change. 
"There is a conversation we are having at the top of echelons of the Australian Public Service around taking responsibility and accountability," she said. 
"The success of Closing the Gap lies deeply in the priority reforms and this is a daily 'every decision' responsibility for every public servant. This takes effort and it also takes huge personal courage to drive these daily decisions, and I'm not just talking about First Nations public servants, who are deadly, but all public servants." 
"We all know that culture, behaviour, mindset happen one person at a time, in every interaction when you are dealing with somebody at the front counter of Services Australia or Centrelink, whether they are doing a grant or opportunity guideline, or policy analysis – every decision needs to be considered through the lens of what is the First Nations perspective, have I even talked to First Nations about this? How do I think differently about my job every day?" 
She said that top-level leadership was really important and the Commonwealth targets had been put in place to make senior executives accountable for meeting Priority Reforms. 
She said that public servants who wanted to make positive change needed to be disruptors who understood the context of their work. 
"You need to create space for innovation. You need to understand the entire system you are in, it is not enough to pull on the one lever. You need to have the personal courage to lean in to that." 
She said that the mainstream departments with huge influence, such as Treasury departments were the ones that needed to be 'poked and prodded' the most by disruptors. 
She said that part of the mindset change required was for governments to think about how to work in partnership with First Nations organisations. 
"The hardest thing for governments is to understand how to share power – it's actually a very awkward thing to do," she said. 
"Public servants have not been trained to have these hard, dignified, respectful conversations – you don't have to promise things you can't deliver, but you need to be authentic in your conversations, and in public service world we haven't tended to teach that as a capability."