Intelligent Regulators: How data and smart systems transform modern regulation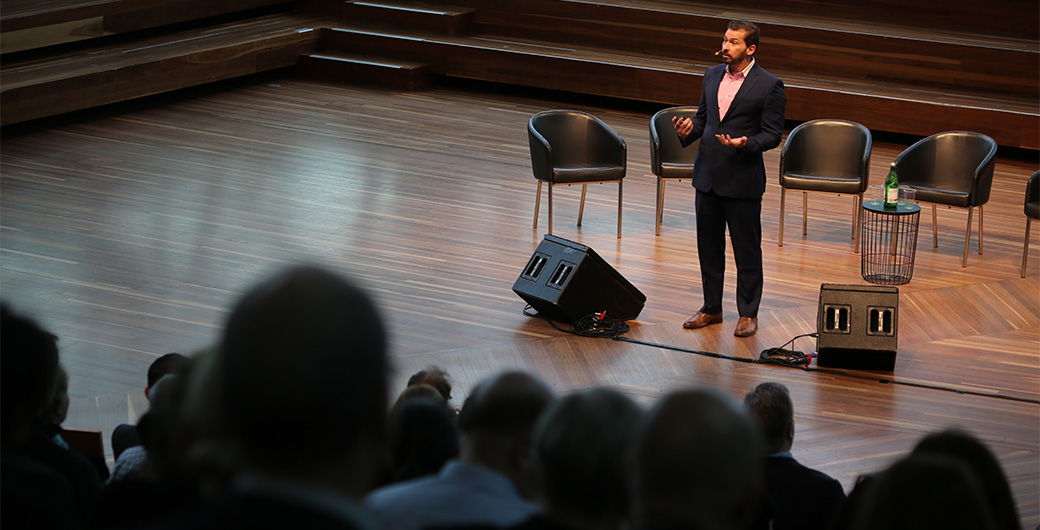 Regulators across the world are facing growing demands for action in complex and volatile domains combined with shrinking resources, but help is at hand: many are using technology-driven regulation to break the cycle and tackle the increasingly global challenges they face.
The 2019 ANZSOG/ National Regulators Community of Practice Forum, held in Melbourne on October 4, brought together more than 250 regulators from Australia and New Zealand to examine the growing use of data and smart systems and learn how regulators are adding 'intelligent regulation' to their repertoire.
Headline speaker Bill Eggers, from the Deloitte Center for Government Insights – and author of The Regulators New Toolkit – outlined the opportunities offered by new technologies and business models, and the tactics which are available for today's and tomorrow's regulators.
Mr Eggers said Artificial Intelligence brought opportunities for regulators, but also new decisions to make about how to allocate resources and how much to rely on technology.
"The most important skill into the future, and not just for regulators, will be knowing how to work with technology," he said. "There is no agency that won't be using AI in five years."
Mr Eggers said that there were still huge potential gains from technology which allowed humans to focus on key aspects of their jobs.
"In the USA, the federal government could save 1.1 billion hours per year through automation. A classic example is child protection workers who spend only 10% of their time face-to-face with families."
Mr Eggers said that if regulators were to serve the community better they need to use a range of new tools and techniques to overcome resource shortages and address new issues involving global actors and supply chains, and the increasing penetration of organised crime.
For example, the New York Fire Department has used data to analyse which buildings are most likely to be at risk of fires, and has successfully targeted inspection to the point where New York has gone an entire year without a fire-related death.
The UK's Behavioural Insights Team is working with regulators to identify underperforming schools and GP offices, by checking publicly available data to spot problems and develop an algorithm to predict which clinics are at the highest risk.
Mr Eggers said that data analysis had a major role in identifying potential problems for regulators but difficulties could arise when algorithms were used for things like predicting crime but ended up reinforcing existing prejudices.
"This is why we have algorithm auditors," he said.
Pia Andrews, former Executive Director of Digital Government in the New South Wales Department of Finance, Services and Innovation, said that regulators needed to ensure that technology-based regulation remained ethical, and considered the needs of consumers.
"Machines won't respond to ethics unless you program them to," she said.
She said that establishing regulators as competing business units often did not deliver coherent outcomes, and that regulators needed to consider the combined impact of regulation on consumers.
"When we talk about 'rules as code' then we are talking about a goal of ensuring that rules can be consistently consumed," she said.
"'Explainability' is one of those things we need to keep in mind when we make rule
s: when you have to interpret something you are taking up resources and creating risk. This uncertainty benefits the bigger incumbents over new players."
Working across agencies to meet common goals
Professor Jennie Granger, former director-general at Her Majesty's Revenue and Customs (HMRC) in the UK, and currently a Professor of Practice at UNSW Business School, spoke about her work in the UK where she led the transformation of HMRC's Customer Compliance (consisting of 28,000 staff) whilst doubling compliance revenues.
She said that regulators needed to embrace technology and work with other agencies to advance their shared interests and work across national boundaries. "Multi-agency teams are a must for tackling the hidden economy, and almost every agency has an interest in this," she said.
Creina Chapman, deputy chair and CEO of the Australian Communications and Media Authority, outlined how ACMA had used a combination of regulatory tools to attack overseas gambling websites preying on Australians.
She said the change had started with new laws, drafted in 2017, which addressed changes in technology and provided for civil penalties, which were a more useful threat than criminal sanctions.
ACMA's work involved cooperation with a range of other agencies, in Australia and overseas, and use of a range of approaches to reduce the number of Australians gambling illegally on offshore sites.
"We needed to understand the operators of these sites. They are a 'whack-a-mole' game, they are high-tech and they find it easy to shift their operations and disguise what they are doing," she said.
She said ACMA made heavy use of data to determine where Australians were doing the most gambling and focused on the 'low hanging fruit' and the biggest operators. Some responded to a simple written warning by geoblocking access from Australia, while others needed stronger sanctions.
ACMA also ran education campaigns telling Australian gamblers to beware of offshore sites because there was no guarantee they would be able to access their winnings.
Environmental regulation: regulating in an emotional climate
A range of environmental regulators talked about how technology was helping regulators deal with the pressing environmental issues of water regulation and waste.
Di Mead from the Murray Darling Basin Authority, said that water was a scarce resource and its regulation had become emotionally charged during Australia's most recent drought
"The MDBA covers five jurisdictions, plus the federal government. All states want to regulate for their own benefit, and we need to come over the top to ensure good outcomes," she said.
Ms Mead said that the MDBA was using remote satellite data to monitor and track changes in water use across the basin, often to the surprise of farmers and irrigators.
"This imagery allows us to get intelligence that we might need later on. It is not enough on its own to use as evidence, but it can shape what we do," she said.
She said that regulators in politically charged areas needed to be aware of the environment they operated in.
"Be strong advocates: be relevant, be independent and politically savvy – and demonstrate your value," she said.
Rachel Gualano, director regulatory programs at the Victorian EPA, said that the agency was using drone technology as an addition to its ability to tackle waste crimes and illegal dumping, and achieve environmentally friendly outcomes for the community.
She said the EPA had a strong intelligence network within the industry, and received almost 2000 tip-offs from the public each year. But this had been supplemented with drone technology which gave officers information that helped them to prioritise operations, and ensured they had a profile of a site before paying a physical visit.
The 2019 Forum attracted a record number of attendees across the sessions, with members of the National Regulators Community of Practice and other regulators keen to learn about the latest regulatory techniques. Resources from the Forum will be available soon.