Garma 2019 Report: Including First Nations in future policies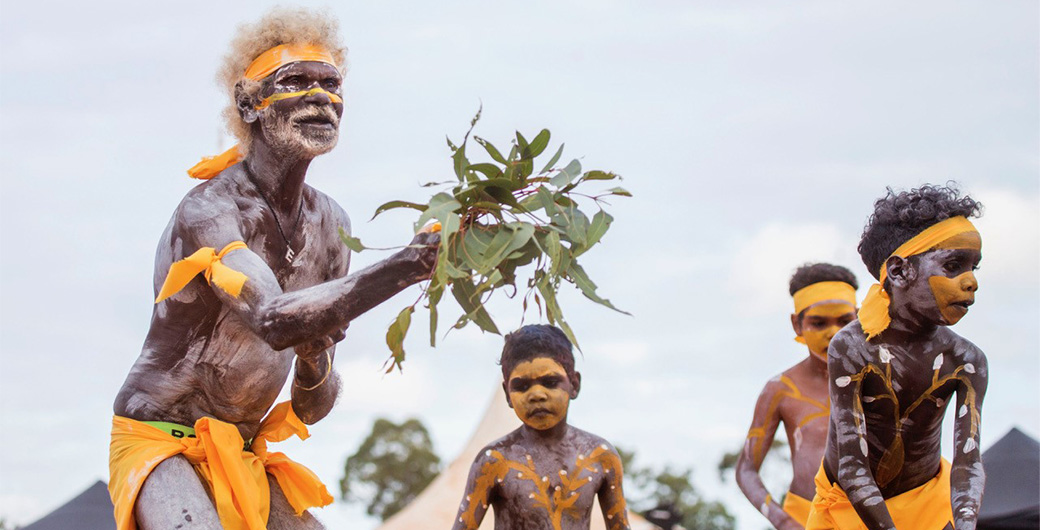 Image credit: Melanie Faith Dove, Yothu Yindi Foundation (yyf.com.au). Senior Yolngu man Eddie Gumbula and Gumatj clan boys performing bunggul (ceremonial dance) at the 2019 Garma Festival.
By Carissa Lee Godwin
The Garma 2019 Report urgently calls for First Nations people to be included in the Australian Government's decisions affecting land, climate change and Aboriginal people. Carissa Lee Godwin, Editor, APO's First Peoples & Public Policy Collection, highlights the voices calling for inclusion and key policy considerations from the Garma Festival 2019.
The annual Garma Festival is composed of a multitude of practice-led expression through formats such as dance, forums, discussions and workshops, and aims to provide a safe place for Aboriginal people to express and develop cultural practices and explore economic opportunities. The festival takes place on the Gulkula site, in North East Arnhem Land (Yolŋu land) and is hosted by the Yothu Yindi Foundation, an organisation whose goal is for Indigenous Australians to have the same level of wellbeing and life opportunities as non-Indigenous Australians.
Garma is an effective setting to hold conversations about decisions that affect Australia's First Nations people, as well as an opportunity to showcase the significant work that is already being undertaken in Indigenous communities. Importantly, it provides opportunities for participants from all over the country to discuss the future of Aboriginal government relations in Australia.
Garma Festival report highlights
Garma Festival reports, published each year by the Yothu Yindi Foundation, provide a crucial sense of First Nations peoples' issues and aspirations that need to be addressed and realised. The theme for the 2019 festival was "Garma'lili manapanmirri dhukarryarrany'dhun gudarr'wu", which translates from Yolŋu Matha (Yolŋu language) to "Pathways to our future". The Garma 2019 Report, highlights some key messages from the festival:
1. The Yothu Yindi Foundation identifies three primary objectives to drive the achievement of its vision:
cultural identity
community development, and
maximised economic development. (p 7)
2. Yingiya Guyula, Independent Member for Nhulunbuy and Yolŋu teacher, raises concerns that the education system is "failing to bring two cultures together on a genuine pathway to both the Yolŋu and western worlds." (p 10)
3. Across North East Arnhem Land, there are about 36 regions. Some have schools, but most don't. Yolŋu speakers maintain that for the survival of culture, family, and community, their children must learn "about Country, On Country." (p 11)
How to include First Nations voices
Three key considerations that emerged from Garma 2019 exemplified the Festival theme, including First Nations voices in government policy:
The Chair of the Yothu Yindi Foundation, Dr Galarrwuy Yunupingu AM calls for a quick resolution to the ongoing debate around the proposals outlined in the Uluru Statement from the Heart. He states: "We are thinking of our Constitution, how we can change it and make it a real law for Yolŋu people as well as Balanda (non-Indigenous) people… We are doing that, asking for the rights to be accepted by the Commonwealth Government and by everybody else." (p 14)
Yothu Yindi Foundation CEO Denise Bowden recommends that governments need to address housing issues in Aboriginal communities: "Don't get me wrong – we understand the importance of tourism to the economy but meanwhile in the bush the housing crisis continues, the housing deficit grows, Indigenous people are living lives characterised by poverty and neglect and despair." (p 16)
Young people participating in Garma's youth forum express their concerns about climate change: "We do not want to be unarmed as we confront some of the biggest problems faced by the human race, from rising sea levels, which will lead to significant refugee challenges, to droughts and food shortages, and our own challenges around a cycle of perpetuated disadvantaged." (p 27)
Celebrating our unique identity
Collaborative discussions at Garma 2019 made it clear that it is beyond time to include First Nations' unique perspectives to inform and strengthen government proceedings: "Let us work constructively together to uphold our distinctive identity as Australians. Our global world wants to make us all the same but our strength is when we see the world through different knowledge systems which works together for all of our benefit," says Yalmay Yunupingu, a Yolŋu hero and celebrated educator. (p 10)
APO has cataloged past Garma reports, each of them a valuable record of First Nations voices from a myriad of cultural nations, addressing the hopes and needs of the country.
About the First Peoples & Public Policy Collection
As part of its mission to improve Indigenous policy in Australia and Aotearoa-New Zealand, ANZSOG is working to increase knowledge of Indigenous culture and history. Part of this is our support of the Analysis & Policy Observatory's (APO) First Peoples & Public Policy Collection, launched at our Reimagining Public Administration conference in February 2019.
APO is an online knowledge hub that makes public policy research visible, discoverable and usable. It contains more than 40,000 resources, including specialist collections, grey literature reports, articles and data.
The First Peoples & Public Policy Collection is curated from a broad selection of key Indigenous policy topics, and provides a valuable resource on Indigenous affairs, with a focus on diverse Indigenous voices.
Resources
Search APO's First Peoples & Public Policy Collection
Sign up to ANZSOG's Indigenous news mailing list
Find out more about ANZSOG's Indigenous engagement
Other APO articles
July – NAIDOC week: Truth telling together
August – Improving learning outcomes for Indigenous students
September – Economic independence through Indigenous art in Australia's far north
October – Experiences of the cashless debit card from the First Peoples of Ceduna
November – Making Indigenous voices heard in climate change debate
December – Keeping First Nations families together