Cassandra Meagher
Executive Director, Service Reform & Corporate
Service Victoria
Faculty: Expert contributors
Australia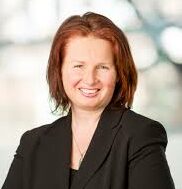 Service Victoria is the government's new dedicated customer service agency. It has been established to make transactions quick, simple and easy for Victorians to get things done with government and is helping the way the public sector agencies interact with citizens.
To assist in achieving this outcome an innovative legislative framework enshrining clear accountability for customer service, new powers to set standards for customer service and identity verification and strong new privacy protection has been enshrined in the Service Victoria Act 2018.
Cassandra heads up a multi-disciplinary team with responsibility for service reform, policy, regulation, stakeholder engagement and product. She's leading the change in transforming the way Victorians engage and interact with government.
With over 20 year's experience in Regulation, Cassandra has established a track record in delivering reform and facilitating change. Cassandra grew her career in the early 90's as an economist with the Productivity Commission learning the fundamentals of public policy and regulatory reform, applying them in practice to the restructuring of railways in New South Wales and Britain. She then leveraged this understanding to work in the Financial Sector as stock brokers advising Australian and International institutions on the rationale for investing in transport, mining services and commercial service firms. Since 2011 she has worked in the Victorian public sector, including leading the Victorian Biosecurity Regulator and being on six statutory committees and representing the Victoria on the National Biosecurity Committee. Some of her achievements in this role included leading the policy and regulatory work underpinning the Victorian Government decision to implement Electronic Sheep Identification, as well as the development of a series of actions plans including the Victorian Wild Dog Action Plan, the Fruit Fly Action Plan and the draft Animal Welfare Action Plan.
Cassandra drives reform and innovation seeking to improve service offerings, value for money, the operation of the public sector and the experience of the public sector for stakeholders and the public. Cassandra is a trained economist with significant experience managing people and change. Her wealth of knowledge, demonstrated expertise and strengths in building enduring relationships have enabled her to establish a highly credible reputation for delivering transformation.
Cassandra has a Masters in Commerce majoring in Economics from the University of Melbourne and an honours degree in Agricultural and Resource Economics for La Trobe University. She has post graduate qualifications in project management and applied finance. She has studied utility regulation at Oxford and is a graduate of the Australian Institute of Company Directors and a member of Women on Boards. Cassandra is a member of the advisory group for the ANZSOG/national regulators community of practice, is the founder of MS Angels Melbourne (raising money for a cure for MS) and a mentor for the University of Melbourne.