2023 First Nations Public Administration Conference: First Peoples to All Peoples
Partnerships, devolution, transformation and sharing
Price
Please see details below
Location
Brisbane Convention Centre and Online
Dates
1 March 2023 - 4 March 2023
ANZSOG's First Peoples to All Peoples conference was held in Meanjin Brisbane from 1-3 March, 2023. Over 800 in-person attendees (plus 300 watching online) heard from over 20 First Nations speakers in a series of plenaries, panels and yarning circles discussing First Nations administration in Australia and Aotearoa New Zealand.
The conference examined First Nations policy through the lenses of Australia's National Agreement on Closing the Gap commitments, particularly the four Priority Reforms, as well as the New Zealand Public Service Act 2020, which now clearly sets out the responsibility of the public service, particularly its leadership, in supporting the Crown's relationship with Māori under the Treaty of Waitangi.
A range of First Nations speakers from Australia and Aotearoa New Zealand shared their insights and experience of how transformative approaches that include First Nations knowledges, perspectives and values, can serve the wider public and First Nations interests.

The conference was divided into four sessions, based on the four Priority Reforms:
All presenters will help conference participants explore four key themes:
formal partnerships and shared decision-making,
building the First Nations community-controlled sector,
transforming government organisations,
shared data and access to information.
A brief summary of the conference is available here. A full report is being prepared and will be posted on the ANZSOG website and shared with attendees.
For those wanting more information on the National Agreement, ANZSOG, with the assistance of the Coalition of Peaks Secretariat and the Closing the Gap Secretariat have produced an Explainer 'The National Agreement on Closing the Gap – and what it means for public servants' which outlines in detail how public servants at all levels, and in all agencies, can work to help support the four Priority Reforms.
---
In partnership with:  
ANZSOG is committed to building public service capability in First Nations Public Administration, and ensuring public services are culturally competent. Ways of working with First Nations peoples are undergoing a transformation and public servants working in all areas of public administration must change their thinking and upskill, in order to engage successfully with First Nations peoples for improved outcomes.
Part of this work is our regular First Nations public administration conferences which bring together public servants, academics and not-for-profit community leaders to engage with First Nations speakers and listen to their views. These events deepen public sector understanding of the value of First Nations knowledges and cultures, and their importance to public policy.
These conferences have also provided a valuable opportunity for people working in First Nations public administration to connect and build networks across jurisdictions in Australia and Aotearoa New Zealand.
First Peoples to All Peoples: partnerships, devolution, transformation has built on the success of three previous First Nations public administration conferences.
In 2021, ANZSOG held its first virtual First Peoples' Conference, Proud Partnerships in Place, which attracted over 500 participants and featured speakers from across Australia and Aotearoa New Zealand, including cabinet ministers from both countries. Video recordings from all conference sessions are available in our Wise Practice collection of First Nations resources.
This conference built on the success of its two predecessors: Reimagining Public Administration, held in Melbourne 2019, and Indigenous Affairs and Public Administration: Can't we do better? in Sydney 2017.
For more information on ANZSOG's First Nations activities, sign up for our First Nations e-news.
Sponsors and Partners
Principal Partner
Partners
Bronze Sponsors
General Sponsors
The University of Queensland Press
Conference resources
This paper was commissioned by ANZSOG for this conference to seek to examine the risks and barriers to greater devolution of authority to First Nations communities and organisations (including Peak organisations).
The National Agreement on Closing the Gap, signed by all Australian governments and the Coalition of Aboriginal and Torres Strait Islander Peak Organisations in July 2020, commits to systemic and structural transformation to give effect to the New Approach where policy making that impacts Aboriginal and Torres Strait Islander people is done in full and genuine partnership with them.
Shared decision-making partnerships are mandated so that First Nations representatives can engage with government as equals. Such partnerships range from policy partnerships involving national action to place-based partnerships between all levels of government and local or regional First Nations communities. They also include data and information sharing partnerships so that First Nations regions and communities can assess the data and information needed to make decisions about their future development.
These partnerships require governments (ministers and bureaucrats) to share power with First Nations representatives. They are much more than mere funding agreements.
Similarly, Government [p]Parties to the National Agreement have acknowledged that First Nations community-controlled services are better for their people, achieve better results, employ more First Nations people and are often preferred over mainstream services, and committed to increasing the proportion of service[s] delivered by First Nations organisations, particularly the community-controlled organisations. This already occurs in some sectors, primary health care, legal services and child protection are best known examples, but public servants must be prepared to give up more policy design, program implementation and service delivery to First Nations organisations.
Shared decision-making partnerships and greater delivery of programs and services by First Nations organisations is not business as usual. Public servants may be hesitant to effectively implement these commitments because of real and perceived risks or barriers.
This paper seeks to examine the academic literature around devolution and seek to identify, through interviews with current and former public service leaders, their concerns about the risks and barriers and some of the innovative approaches put in place to address them.
The paper does not, and could not in the time and budget available, identify every risk or barrier in every jurisdiction and provide a possible solution. But it does discuss some of the important structural and systemic changes needed to bring about real and lasting change.
It is up to you as public servants to identify the specific barriers in your area of policy or program and service delivery and to seek to implement solutions that remove the obstacles.
Read the Devolution paper here
About the artists
The Conference will feature original Māori and Aboriginal artwork designed to inspire attendees and represent the journey ANZSOG is undertaking to work with First Nations and incorporate their knowledge and culture into all aspects of our work.
The commissioned artwork 'Te Haerenga' (The Journey) has been produced by Māori artist Aaron McTaggart (Te Arawa – Ngati Whakaue, Ngati Rangi Wewehi) who was born in Rotorua, New Zealand and has been living in Sydney for 17 years with his whanau (family). He has exhibited in many galleries in Australia and was a feature artist in the 'Pasifika' Exhibition at the Casula Powerhouse Museum in Sydney in 2014.
Te Haerenga (The Journey) – Aaron McTaggart
His work is a contemporary interpretation of Māori art forms used in Raranga (weaving) including Harakeke (flax), Tukutuku (decorative woven panels used to adorn the walls of a Māori meeting house to record their history) and Ta Moko (tattoos, a visual story which connects the person to their Whakapapa (genealogy) and Māoritanga (culture). Mr McTaggart says he endeavours to put Wairua (spirit) and Aroha (feeling) into every visual interpretation, to bring a fresh perspective to tell the story.
He said that Te Haerenga told a stylised story blending Māori history and ANZSOG's mission to improve government.
"This stylised story begins in the top left corner when Māori arrived in Aotearoa-New Zealand and Marama (moon) illuminated Te Po (darkness) and past descendants guided our Tupuna (ancestors) to navigate the ocean to discover Aotearoa (land of the long white cloud)," he said.
"Underneath this, the brow of the Waka (canoe) represents Māori embarking on the epic journey to become Tangata Whenua (first people of the land). The green at the bottom left is the fertile land of Aotearoa, representing the balance of nature and knowledge of Māori to provide food and medicine for generations, to sustain their Iwi (tribes), Hapu (sub-tribes) and Whanau (families).
"The two blue sections at the top represent the Wai (water) between Australia and New Zealand, and while it keeps us apart – water is the essence of all life and pays homage to the Mauri (life force) that strongly connects Māori, Aboriginal and Torres Strait Islander People to water.
"At the top, is a brown and red Koru (a symbol of new growth, new beginnings, new relationships) that is surrounded by light blue lines with a red centre. The other black and yellow Koru encompasses Māori Tikanga (customs and protocols) that keep Māori connected to their identity. Inside the Koru, community is the focus – people living and working together to achieve better outcomes for their Tamariki (children) and ultimately our communities.
"The brown 'fields' in the bottom right represent the culture, perspectives and values of Aboriginal, Torres Strait Islander People and Māori, that can better inform the work of the public sector, academics and community agencies.
"The green section on the right hand side represents the environment and how essential it is for the wellbeing of all First Peoples cultures. Beneath this, the brown and red earth of Australia depicts the critical importance of caring for Whenua (land/country), to the generations of Indigenous Kaitiaki of the land."
"In the centre, the small black and red triangles inside the white curved line, symbolise the steps ANZSOG has taken since it began its journey in 2002.
He said the journey and milestones ANZSOG has achieved thus far are illustrated beneath the steps. The grey pathway that moves beyond these milestones signifies the journey ahead and the achievements and stories yet to unfold.
"The cross hatch design in the bottom right depicts the reward that is nurtured and reaped through education. The purpose of ANZSOG is paramount, to continually provide the public sector, academics and community leaders with the knowledge to develop the best public administration tools to achieve the best outcomes for all First Peoples."
For its 2019 First Peoples conference Reimagining Public Administration, held in Melbourne, ANZSOG commissioned an original artwork – "Journey – where we have been & where we are going" – from local Indigenous painter Emma Bamblett. The artwork will be used again as part of promotions for Proud Partnerships.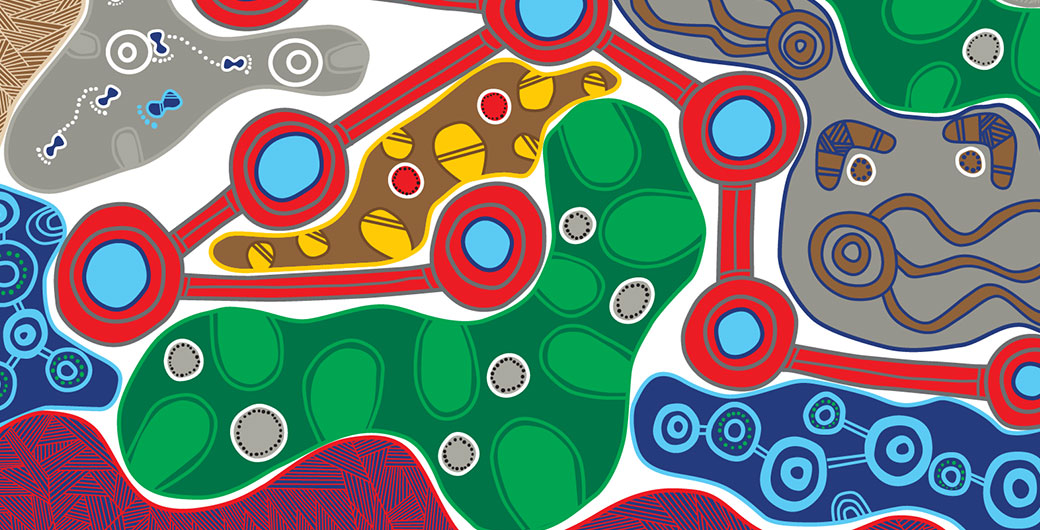 Journey – where we have been & where we are going – Emma Bamblett
A proud Wemba Wemba woman, born and raised in Echuca on the Murray River, she has found inspiration and motivation from the arts community in Melbourne as well as working in the Aboriginal child and family welfare sector. "Journey" represents coming together, journey and connection – all themes of the Reimagining Public Administration conference.
Most of Ms Bamblett's artwork is deeply personal, representing the stories and struggles for vulnerable children, youth and families through whom she meets in her occupation.
Aaron McTaggart and Emma Bamblett
She said that the painting was a 'representation of where we have been and where we are going'.
"You will see bright colours of red and yellow in the rivers, with continuous lines to represent the rivers which surround the area where the conference was held,"
"The footsteps in the top left corner represent the role of ANZSOG in providing leadership, support and guidance to those working in the public sector.
"The brown areas with the yellow hills represent Aboriginal and Torres Strait Islander people, the dots in the middle of the circles represent their skin colour and the red represents the earth, while the green area with the hills and grey circles represent Māori -the First Peoples of New Zealand.
"The hills signify the importance of land and country and the importance of connection.
"All the elements in this painting represent coming together, journey and connection. I believe these are elements which are representative of ANZSOG's mission to support and provide leadership to the public sector and provide effective outcomes for our community."